When you're buying plants online, price isn't the only factor to consider - the size of the plant you are purchasing can make a big difference in your success and satisfaction. Here at ButterflyBushes.com, your plants will come in one of two sizes: a quart, and for Proven Winners shrubs, a starter quart.
One quart pot
All of our perennials and some of our butterfly bushes are grown in these one-quart pots. This size is economical to ship while also providing a big, robust root system for one of the best plants you can buy online.
Starter quart
All of the butterfly bushes and flowering shrubs from Proven Winners ColorChoice are grown in a round starter quart pot. They have robust, well-established root systems and will quickly make themselves at home in your garden.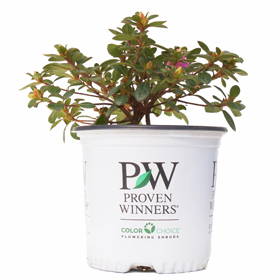 One gallon
Get a big, blooming shrub sooner with this generous-sized plant. Measuring in at 8" diameter and 7" tall, it holds an entire gallon's worth of our premium blended soil and plant roots. Only Proven Winners ColorChoice Shrubs are available in this premium size.
One last thing: every plant you order from ButterflyBushes.com and our sister company, GreatGardenPlants.com, is grown and cared for in our greenhouses. We personally select and pack every plant we ship because we value high quality and your satisfaction. We wouldn't have it any other way!